Onze tennisbanen zijn genummerd van 1 tot en met 5, waarbij baan 1 het dichtst bij het clubhuis ligt.
Our tenniscourts are numbered from 1 to 5, court 1 is closest to the club house.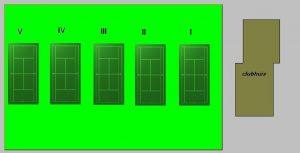 Het is belangrijk dat de tennisbanen gelijkmatig bespeeld worden om ongelijk slijtage te voorkomen. Het is daarom verplicht onderstaand speelschema in acht te nemen. Komt u bijv. op maandag (en alle banen zijn vrij) dan neemt u baan 1. Komt u op dinsdag (en alle banen zijn vrij) dan neemt u baan 2. De volgende spelers (en baan 2 is nog bezet) nemen dan baan 3, enzovoort.
It is important that the tenniscourts are played equally to prevent uneven wearing. Therefor it is mandatory to follow the schedule below. For example if you are playing on Monday and all courts are available please use court 1. Are you playing on Tuesday and all courts are available, please use court 2. The following players will take court 3 if number 2 is still in use, etcetera.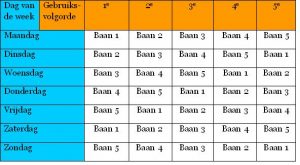 De komende weken zullen banen 1, 2, 3 en 4 bezet zijn door korfballers op:
The coming weeks courts 1, 2, 3 and 4 will be in use by korfballplayers on:
Dinsdagen van 19:45-22:00 uur en op zaterdag 17 september, 1, 22 en 29 oktober van 14:00-16:00 uur
Tuesdays from 19:45-22:00 o'clock and on Saturday September 17th, October 1st, 22nd and 29th from 14:00-16:00 o'clock